The Pittsburgh Steelers may have landed one of the biggest steals in the 2017 NFL Draft when they selected the University of Pittsburgh's running back James Conner.
Conner's story is a well-known one. The young man has fought through adversity, battling injuries and conquering cancer on his path to the NFL.
Now, Conner will have an opportunity to continue his story in 2017 as a member of the Pittsburgh Steelers. Here is a scouting report on Le'Veon Bell's current backup.
| | James Conner |
| --- | --- |
| Height | 6′ 1″ |
| Weight | 233 lbs. |
| Arm Length | 31 1/4″ |
| Hands | 9 7/8″ |
Strengths
Relentless, hard-working player who fought through Hodgkin's lymphoma
Punishing runner with great pad level at the point of attack
Arm tackles are useless against him
Momentum is his ally – very tough to tackle when he gains a head of steam
Good vision – typically chooses the correct gap
Fantastic balance – attempted tackles don't slow him down easily
Very powerful build – running over defenders is second nature to him
Short-yardage specialist – can hammer it in at the goal line or leap over the pile
Decent and willing blocker in pass protection
Soft, natural hands despite not being targeted much in the passing game
Scheme diverse player who should thrive in Steelers gap blocking system
Showcases an element of finesse despite his thick frame
2014 season was unbelievably good (1,765 yards, 5.9 per carry, 26 TD)
Weaknesses
Doesn't possess great speed – probably can't eat up 20+ yard runs very often in the NFL.
Lack of speed makes it very hard to go the distance when the opportunity presents itself.
Could stand to be better in pass protection given his size
Pittsburgh's offensive line was one of the best in the nation in 2014
Not great at getting to the outside on stretch plays
Only average lateral movement speed
Not a jump-cutter – won't make a lot of defenders miss by putting his foot in the ground
Medical concerns may be an issue down the line
Analysis
If you put on Conner's 2014 tape, it's not hard to see why he used to be talked about as a future first or second round draft choice at the time. He was a big, powerful back who seemed impossible to drag down. When he gets rolling, he is going to run the first guy over.
Here's the first play from scrimmage in his game versus Penn State last year.
Conner makes defenses pay when they try to tackle him high. This run versus Iowa from 2014 gives you a glimpse of just how good his leg drive is when defenders are trying to bring him to the ground. He pulls Desmond King and company for nearly a 15-yard ride.
Conner also shows better than expected vision for a back his size. On numerous occasions, he showcases the ability to get skinny and run through the right hole. He also possesses a lethal stiff-arm for defenders who attempt to tackle him from the side.
Here's a play vs PSU which showcases both:
James Conner shows the ability to pick up blitzes, but his technique needs some major refinement. His strong frame and lower-body power were enough to get the job done at the collegiate level, but he will need to work on squaring up NFL rushers instead of just lunging at them.
Here's a block Conner lays on a knifing defensive end from Penn State. The pass would be completed to Scott Orndoff for a touchdown.
Another area where Conner is exceptional at is the goal line. He can use brute strength to power his way through or leap over the top, as he does here.
Conner doesn't have many negatives in his game. Probably the biggest knock on him is his lack of breakaway speed. On this play against Virginia Tech, for example, he wasn't able to punch it in for a score because he lacks that second gear.
Player Comparisons
Conner is compared with Cincinnati Bengals running back Jeremy Hill. That may seem like a cop-out comparison because they are so similar in terms of stature and athletic measurables, but their playing style also shares many similarities.
For starters, both running backs have powerful lower bodies. They win with leverage and leg drive rather than quickness to get around defenders. Neither running back possesses a top-end gear, but both are hard to stop between the tackles. When given a head of steam, Conner and Hill are equally hard to hard for a defensive back to take down in the open field.
Another player Conner reminds me of is Michael Turner in his years with the Falcons. Turner was a better athlete coming out of college, but if you pull up some film of his, the similarities in run style between Turner and Conner are undeniable.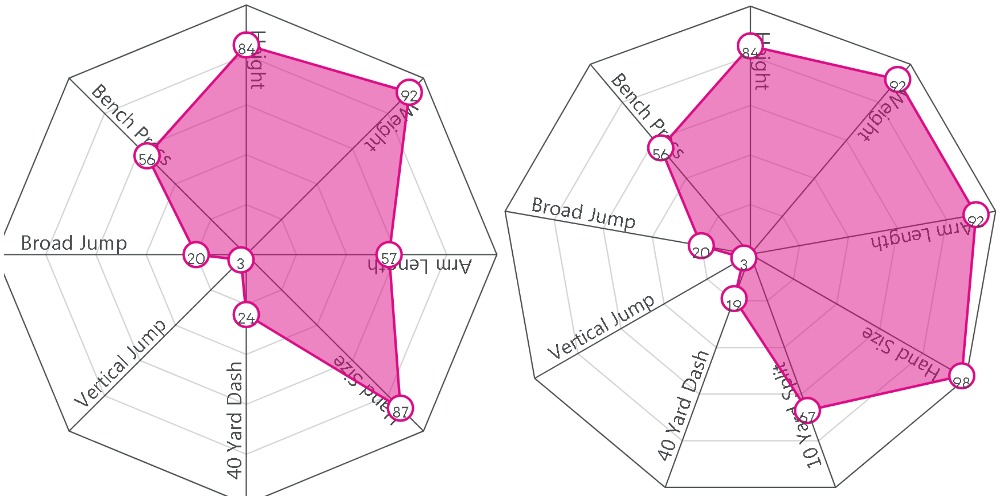 Bottom Line
Though Conner possesses a similar stature to Le'Veon Bell coming out of college, their run styles differ tremendously.
James Conner is a punishing, bruising runner who never shies away from laying the hammer down on the defense. Though his strides can be a bit plodding at times, Conner has good vision and doesn't waste a lot of steps getting where he needs to go. Conner isn't a great athlete in terms of NFL speed and explosion numbers, but his violent play style and ability to do it all make him a candidate to stick around in the league for many years.
Though James Conner may lack the foot quickness to be an every-down feature back, there is certainly a role for him as a situation runner – mainly short yardage and goal line.
Conner's will and power make him a reasonably high floor candidate with a chance to be much more if he can return to his 2014 form.