Tennessee quarterback Joshua Dobbs landed on a franchise that will soon be looking for Ben Roethlisberger's replacement. Dobbs will be given a chance to show the Steelers what he's capable of in the coming seasons. For now, let's take a look at what Dobbs' future could resemble.
| | Joshua Dobbs |
| --- | --- |
| Height | 6′ 3″ |
| Weight | 218 lbs. |
| Arm Length | 31 1/4″ |
| Hands | 9 7/8″ |
Strengths
Quick, tight release when throwing the ball
Had the 5th best quarterback rating under pressure last year, according to PFF (105.7)
Fantastic overall athleticism for the position
Very shifty in the pocket – can make defenders miss with elite lateral agility
Can eat up massive chunks of yardage with his legs
Very good in timing and rhythm passing
Great mental toughness – not phased by mistakes
Eye-popping deep throw accuracy – completed nearly 48% on 20-plus yard throws and 14 touchdowns
Throws a tight spiral with adequate velocity
Fantastic pocket awareness – can step up or escape when needed
Not afraid to deliver a throw and take a big hit
Was poise despite constant pressure due to poor offensive line play
Shows ability to work through his reads
Potential for sub-package use because of athleticism
Had many on-target passes dropped by his wide receivers
Weaknesses
Thin frame – could stand to add weight
Not injury prone, but slight build could make him susceptible to injury at the next level
Struggles with accuracy at times – misses too many routine throws
Loses sight of defenders at times late in the down, forcing bad decisions
Adequate, but not great velocity on his throws
Inconsistent footwork at times – sometimes causing the ball to sail
Flashes tremendous potential, but needs to be more consistent
Analysis
If you watched Dobbs in college, it wouldn't take you long to realize he is one of the best running quarterbacks in all of college football. He can cover a lot of ground in just a few seconds. Here he is putting his legs on display vs Nebraska:
Later in the game, Dobbs finds a small crease on a quarterback run and eats up big yardage in a hurry:
When Josh Dobbs is able to step up in the pocket and deliver the ball on time, good things normally happen. Here's an example of that:
Dobbs doesn't get enough credit as a pocket passer. Here he is going through his progressions, stepping up in the pocket, and delivering a strike to his receiver for a 1st down.
Dobbs is a wizard at times when it comes to escaping pressure. In this play, he recognizes the offensive line is collapsing, eludes a defender, and makes a beautiful throw on the run (which is yet again dropped):
Dobbs shows why mobility can be so important in the red zone. Here he is taking off for a score:
Dobbs tends to struggle with accuracy at times, however. When his timing is thrown off, his footwork and form often suffer. Here is an example of one of those times, where Dobbs misses a routine throw that was nearly picked off by Nebraska:
Though Dobbs had his issues with accuracy at times, he got next to no help from his teammates. The Tennessee receivers had a tendency of dropping the ball often – especially on some catches that should have gone for big plays. Here is an example from the game vs Nebraska:
In the very same game, here's another beautiful ball that should have gone for a touchdown, if not for wildly inconsistent hands by Tennessee wideouts:
Dobbs gets a bad rap for not being efficient on 3rd downs, but often times, it's the receiver who makes the big mistake. Here's a pass to Alvin Kamara that should have gone for a touchdown:
Player Comparison: Dak Prescott, Dallas Cowboys 
This comparison seems cliche in so many ways, and fans who have been following Dobbs closely have no doubt heard this many times. However, the similarities between these two quarterbacks are undeniable. Prescott was slightly more advanced in college as a pure passer, but Dobbs was a superior runner. Despite a few minor differences in play style, these quarterbacks share many things in common.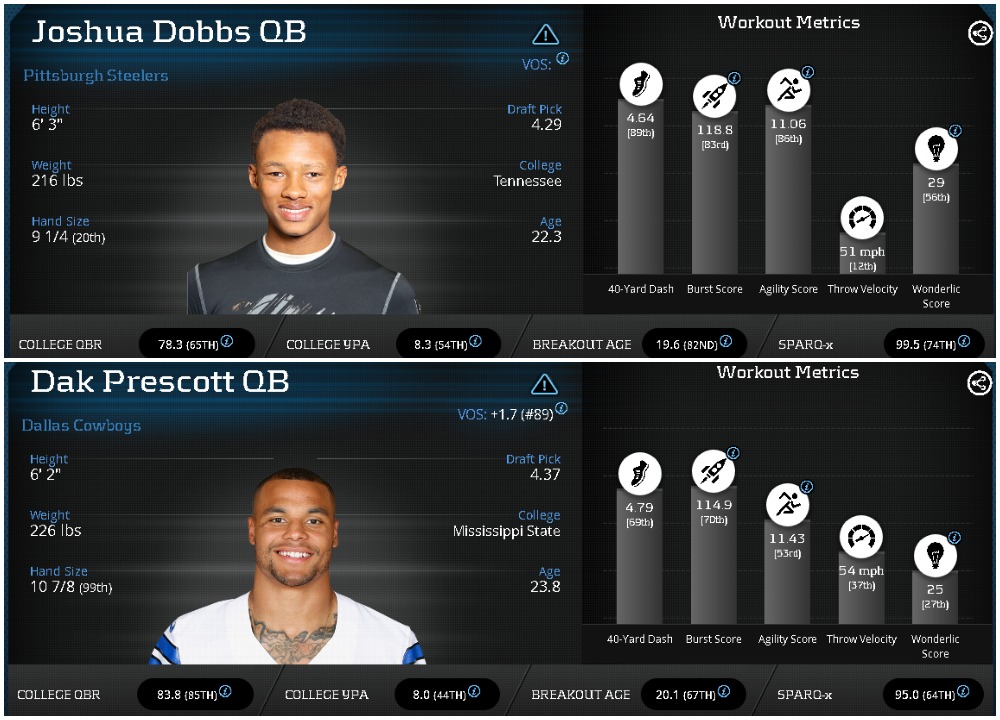 Both quarterbacks are plus athletes, but differ a bit in terms of body type. Dobbs is taller and leaner, while Prescott weighed ten pounds more coming out and has massive hands. Though they played against the exact same competition during the same time, Josh Dobbs had a better college yards per attempt, breakout age, and SPARQ-x score than Prescott. These aren't always indicators that a player is going to be a good quarterback, but it helps.
Prescott and Dobbs were both considered among the best quarterbacks in the SEC during their senior years. Their numbers are much more similar than most people realize:
| Player | Conf | Class | Games | Comp. Pct | Y/A | TD | Int | QBR | Rush Yds | YPC | Rush TD | PPG | Record | SEC Record |
| --- | --- | --- | --- | --- | --- | --- | --- | --- | --- | --- | --- | --- | --- | --- |
| Dak Prescott | SEC | SR | 13 | 66.2 | 8 | 29 | 5 | 151 | 588 | 3.7 | 10 | 34.4 | 9W-4L | 4W-4L |
| Joshua Dobbs | SEC | SR | 13 | 63 | 8.3 | 27 | 12 | 150.6 | 831 | 5.5 | 12 | 36.4 | 9W-4L | 4W-4L |
Both quarterbacks started 13 games and had very similar completion percentages and yards per attempt. Though Dobbs threw twice as many interceptions as Prescott (I counted three that were the receiver's fault), their quarterback ratings were still remarkably similar. Dobbs surpassed Prescott in production on the ground and Tennessee's offense under Dobbs averaged two more points per game than Mississippi State in Prescott's senior campaign. What is perhaps most intriguing of all, however, is that they both earned the same overall record and the same conference record in the SEC.
Everyone is also aware that Prescott and Dobbs were drafted with the exact same pick just one year apart (4th round, 135th overall). Remember, nobody was calling Prescott a first round pick last year before the draft. Here is how Prescott and Dobbs were viewed by credible draft websites before they were drafted:
| Player | NFL.com (Zierlein) | ESPN (McShay) | Draft Wire | Bleacher Report | Pro Football Focus | NFL Draft Scout |
| --- | --- | --- | --- | --- | --- | --- |
| Dak Prescott | 3rd round | 4th round | 6th round | 3rd round | 6th-7th round (221 overall) | 4th-5th round |
| Joshua Dobbs | 3rd round | 2nd round | N/A | 4th round | 6th (200 overall) | 5th-6th round |
As you can see, most of the hype on Prescott came after the draft and after he was already in a Cowboys uniform. In terms of prospects coming out of college, Dobbs and Prescott were viewed very similarly. Not only were both players were drafted with the same pick and played in the same conference, they showcased excellent composure in leading their teams to successful seasons in the SEC. Both quarterbacks can run with the football but are pocket passers first. Likewise, both were winners despite a lack of overall talent on their respective teams. It's not hard to see why they can be compared.
http://gty.im/610895666
Bottom Line
In the fourth round of the 2016 draft, the Steelers went with perhaps the player with the highest upside on the board. ESPN's Todd McShay approves of the selection. Here's what he had to say about the Steelers taking Dobbs:
Dobbs has a chance to be a good starter in this league, and landing with a team such as Pittsburgh will only increase his chances. Dobbs has a live arm and the ability to throw with anticipation, and his excellent mobility comes in handy when he needs to extend plays. I'm really impressed with Dobbs' makeup; he juggled aerospace engineering classes and being a starting quarterback in the SEC. Imagine what he'll be able to do as he focuses solely on football. Dobbs is the perfect quarterback for the Steelers to draft and learn from Ben Roethlisberger — and the team got tremendous value in getting him at pick No. 135 (we had him ranked 63rd overall).
According to an article by SECCountry.com, McShay even admitted he thought Josh Dobbs was going early in the second round if he didn't go in the first. In an article by Draft Wire, McShay went even further, saying he'd rather spend a second-round pick on Dobbs than use a first-rounder on Clemson's Deshaun Watson, North Carolina's Mitch Trubisky, Texas Tech's Patrick Mahomes or Notre Dame's DeShone Kizer.
Dobbs is an interesting prospect, to say the least. The former Tennessee Volunteer possesses all of the physical traits you could ask for in an NFL quarterback, as well as the football IQ. Dobbs isn't a finished product yet, but if he shows that his motivation is truly in the game of football, I see no reason he can't succeed in the NFL. Though Dobbs struggles with accuracy at times, he is an extremely intelligent and physically gifted football player who has a chance to prove why he should be the future in Pittsburgh.